Home > Store > Home Products > Desktop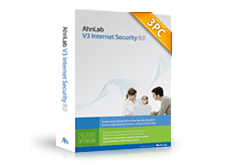 Price :

$69.95
| | |
| --- | --- |
| Documents | |
| Related Products | |

AhnLab V3 Internet Security gives you a cloud-based/full-featured PC security solution that protects your company from ever-emerging online threats.
Anti-Virus/Anti-Spyware

Provides robust protection against viruses, worms, Trojans, and spyware. Powered by the cloud-based AhnLab Smart Defense and DNA Scan technology, it delivers proactive and instant protection for endpoint systems without the risk of false positives.

Web Security

Locks phishing sites and filters URLs to prevent the leakage of sensitive personal data. Users can manually register harmful sites for increased protection.

Mail Security

Protects users against malicious email and instant messages. By performing real-time scans of incoming and outgoing email attachments, it blocks malicious content and repairs infected files.

Network Intrusion Prevention/Personal Firewall

The network intrusion prevention features blocks harmful network attacks, while the two-way personal firewall prevents intruders from accessing your network.

USB Flash Drive Scan

Provides powerful virus detection to remove suspicious files and block autoruns on portable storage devices.

Complete Data Wipe

The data wipe feature securely erases folders and sensitive files to eliminate the potential for a confidential data breach. It removes all traces of data with a multi-pass overwriting algorithm to ensure that no recovery tool can recover or expose your information.

PC Tune-Up

The tune-up feature clears temporary files, registries, and other unused data to enhance system performance and keep computers running smoothly.

* Certificates
Category

V3 IS 8.0

Corp A

Corp B

Corp C

Corp D

Anti-Virus
Anti-Spyware

Signature-Based Scan

O

O

O

O

O

Cloud-Based Scan

O

O

O

X

X

Network Security

Personal Firewall

O

O

O

O

O

Personal IPs

O

O

O

O

O

Web Security

Phishing site blocking

O

O

O

O

O

URL filtering

O

O

O

O

O

Mail Security

POP, SMTP

O

O

O

O

O

Anti-Spam

O

O

O

O

O

PC tools

PC Optimization

O

X

P

O

O

File data trace wiping

O

X

X

O

X

Application control

O

X

X

P

X
O :offered, P :partially offered, X :not offered
Category

System Specifications

OS

Windows XP (Professional/Home/Media Center/Professional x64*)
Windows Vista (Starter/Home Basic*/Home Premium*/ Business*/Enterprise*/Ultimate*)
Windows 7(Home Premium*/ Professional*/Ultimate*/Enterprise*)

Windows 8*

CPU

Intel Pentium III 500MHz or higher

Memory

256MB or higher

HDD

300 MB or more

Resolution

800x600 or higher in : 256 colors

Browser

Microsoft Internet Explorer 5.0 or later
* V3 IS 8.0 properly runs under 32-bit and 64-bit versions of the supported Windows operating system.