Home > Products & Services > Online Security Services > AhnLab HackShield for Online Game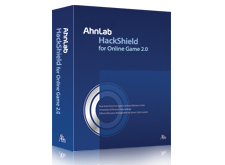 Protecting Profit Model
* Protects clients' business by preventing piracy and cheating, therefore reducing loss of revenue.
Cutting Management Cost
* Minimizes clients' management costs associated with resolving user claims and server overload caused by hacking attacks.
Increasing Brand Value
* Supports clients' business to succeed by protecting game integrity and maximizing user satisfaction

Recently, online game hacking has developed into targeted, multi-dimensional, and rapidly growing syndicated crime, from which more comprehensive, flexible and continuous countermeasures are required in order to protect the game environment.

HackShield is a complete, robust and sustainable online game protection based on multi-dimensional countermeasures and expert support. With its powerful anti-hacking technologies and management services, HackShield protects your game and safeguards the game environment from rapidly evolving threats.

What it does:
* Collects customized hacking-tool samples
* Develops new response technologies
* 3-step response
- Distributes signature engine
- Distributes memory heuristic engine
- Releases Module
* HackShield QA team
* Automated update
* Whitelist-based system error control
* Dedicated technical support
* Provides real-time hacking monitoring
* Provides hacking-tool report
* Provides AhnLab monthly security report
[about the Service]

Anti-hacking
* Prevents and blocks hacking attacks with powerful protection technologies, both at the server level and at the game client level

Customized Protection
* Continuous optimization of defense engine against evolving hacking tools

3-step Response
* Fundamentally blocks known attacks, variants and unknown threat with 3-step response;
signature engine release memory heuristic engine release module release

Maintenance
* Ensures stable operation of services with dedicated technical support; prompt troubleshooting and response
* Minimizes maintenance cost by auto updates and system error control
* Global Support System (GSS)

Monitoring
* Game Security E-Response Center (GSEC), AhnLab's game hacking expert group, provides timely response and continuous threat management
[about the Technology]

Blocking Speed-hacks
* Detects memory modifications by comparing server-side memory with game client memory

Detecting Memory-hacks
* Detects hacking tools and terminates client game connection from server

Detecting Auto-mouse-play
*Detects and blocks auto-mouse-play

Preventing Message-hooking
* Blocks message-hooking and event-stealing

Detecting File Alteration
* Examines file alteration on a regular basis

Anti Reverse-engineering
* Prevents reverse-engineering by disabling debugging-attempts
Recommended

Minimum

OS

Windows 98 / 98 SE / ME /
2000 Professional / XP Home /
XP Professional / Server2003 / Vista / win7

Windows 98

CPU

Intel Pentium 500Mhz or higher

Intel Pentium 133MHz
IBM-PC Compatible Type

RAM

128MB or higher

32MB

HDD

2MB or higher

Web Browser

Internet Explorer 4.0 or higher