Home > Products & Services > Home Products > Desktop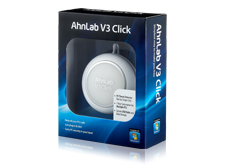 Portable Antivirus
Quit worrying about complicated antivirus programs!
Make security simple and easy.

More and more people now own two or more computers in their household, for different purposes and different people. Though the fact of using every computer with an antivirus hasn't changed, the perception of the 'antivirus installed on every computer' may soon become ancient, too.
Antivirus really doesn't have to be constantly on every computer all the time; it just needs to be ready when you're using that exact computer.

AhnLab V3 Click; a new gadget-type antivirus, is a simple and easy solution that will answer to all your needs, with "No Fuss, No Muss". By flickering and clicking, this gadget is all about being easy and intuitive.

Here's what V3 Click can do:
Simple but Powerful Antivirus
V3 Click has all the must-have features you need in an antivirus.
* Quick Scan: Quickly scans the most vulnerable areas in your computer, and to enhance system performances.
* Full Scan: Monitors your computer at all times, and detects security threats running.
* History and Status: Shows you the operation history of V3 Click and the current status of your computer.
PC Optimization
V3 Click offers a both quick and thorough type of PC optimization. By effectively moving junk out of your registry, temp files and memory it will not only stabilize but enhance the system performance of your computer.
Don't worry; PC optimization doesn't need to be performed separately like your ordinary antivirus. Simply run Quick Scan or Full Scan and your PC optimization will follow automatically.
2-Port Secure USB Hub
Threats against the computer come from a lot of places but besides the internet, unsecured storage devices are one of the frequent sources of threats. V3 Click offers a new concept of USB hubs, a 2-Port Secure Hub. Not only will it act as a typical 2-Port USB hub, it will also immediately scan the USB device for threats, when inserted into the hub, and will delete/repair if a threat is found.
V3 Click will protect the computer from all USB devices before any unsecured data is transferred.
Simple & Intuitive
The great thing of V3 Click is you know what you're doing.
1. Instead of excessive and overflowing features and options, a simple array of condensed features will help you through your problems without confusion.
2. Without trying to read between the lines or even interpret the terms of my antivirus, the intuitive green-blue-red lights will show you if your computer is safe or not. A simple short click or long click will start to run Quick Scan or Full Scan. As long as you know how to read traffic lights, you'll have no problem using V3 Click.
One Device – Multiple Computers, Always on the Move, with Less Cost
Your computers are no longer just sitting on your desk. To be occupied, we bring along our laptops when we move. We also use public computers in libraries, museums and also semi-public computers in our favorite restaurants or coffee shops. Maybe from time to time we also use a friend's computer when needed.
It doesn't need to be your own computer, doesn't need to be in your room and you don't have to buy multiple copies to match the number of your computers. It can be any computer, as long it's you plugging it in.
Plug-in V3 click and get the protection the same as your own, with less cost. Whenever you need it, wherever you want it.
V3 Click gives you the peace of mind that you may have been struggling with frustration for years. Suffer no more with antivirus programs; you've got AhnLab V3 Click
System Requirement
| Category | Minimum | Recommended |
| --- | --- | --- |
| CPU | Pentium III | Pentium IV or greater |
| Memory | 64 MB | 256 MB or greater |
| HDD | 700 MB | 1 GB or greater |
| Resolution | 800x600 | 1024x768 or greater |
Device Specification
| Category | Rating |
| --- | --- |
| Operating Voltage | 5 V |
| Power Consumption | 200 mA |
| USB | 2.0 HS |
| USB Port | 2 EA |
| Internal Storage | 2.7 GB |
Problems with AhnLab V3 Click?
Having problems with V3 Click?
Don't worry. We have our staff awaiting 24/7.
Call us at our toll free number at 1-866-666-3080 or email us at
v3click@ahnlab.com
.